Ethiopian Historic Route and Ethiopian Great Rift Valley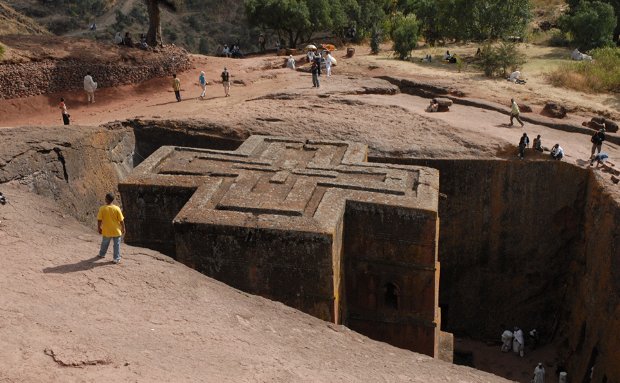 This northern Ethiopian historic route trip is a trip to the "historic pilgrimage'. Among the Nine world heritage sites in Ethiopia which were registered by UNESCO, 3 of them are worth to be visited in this historic route. UNESCO as a world heritage acknowledges the Lalibella Rock churches, the 17th century Gonderian castles, single standing stlea of Axum and the breathtaking semein mountain national park. Ethiopia is also stand at the first rank in Africa for its Nine World heritage sites
Itinerary
Day 1
Addis Ababa Arrival
Arrive at the Addis Ababa Bole International Airport. Be met and welcomed by Coffee Tours Ethiopia representative and transferred in to Sheraton Hotel. www.sheratonaddis.com
Transferred in to the Airport and fly to Bahir Dar. Morning drive to visit the Blue Nile Falls, locally known as 'Tis Isat' meaning 'water that smokes', 35 kilometres down stream from the point where the Nile River leaves the Lake Tana. Afternoon enjoy a boat ride on Lake Tana the 3rd largest lake in Africa with 20 medieval period monasteries on island and peninsula. Visit the Famous ancient island monastery of Ura Kidane Mahomet that is one of the several in the area containing Frescos, elaborate painted ceilings, church crosses, crowns and attires of former Ethiopian kings and emperors. In most of Lake Tana monasteries time has stood still and the world of the Old Testament yet alive. Evening return back to Bahir dar.Overnight Kuriftu resport and spa.
Day 3
Bahar Dar to Gondar
In the morning, drive to Gondar (180km) by bus thorough the chain mountain of north Ethiopia. Gondar is a town, which was the capital of Ethiopia in the 17th century. It is the site of ancient castle building palaces of different emperors constructed in the European middle age architectural style, Debre Berehan Silassie church with its ancient mural paintings, Emperor Fasil's pool, which is still use for the Timket (the Ethiopian Epiphany) festival held every January 19.
Transfer to Airport and fly to Lalibella, famous for its rock hewn churches dating back 800 years. There are 11 Rock hewn churches in one local. These brilliant feats of engineering and architecture are often referred to as the "Eigheth wonder of the world". The afternoon is spent exploring the atmospheric subterranean complex of passages and churches.
In the morning half-day excursion by mule to Asheton Mariam to visit the Church that lie on the top of the mountain (3100mas). The Church itself is similar in style to other rock churches, but the panoramic view of the surroundings is spectacular from the mountaintop. Return to the hotel for lunch. Afternoon spent visiting more of the rock churches in Lalibella town.
Day 6
Lalibela to Langano via Addis
Transfer to the Airport and fly back to Addis.  Drive by 4x4WD Land Cruisers to South East direction and feel the Great Rift Valley region that cuts Eastern Africa in to two. The Great Rift Valley starts from the Dead Sea in Syria and passes through East Africa and Ethiopia and end on the tip of Mozambique. Lunch at Kuriftu lodge at Debre zeit and keep driving to Langano lake side resort.
Morning drive Ethiopian Coffee region and adapt the peoples culture and meet with Coffee Arabica producers farmers and plantation. Spent the day in the forest and the night in the beautiful forest echo lodge.
Morning drive to Lake Hawassa to visit the local fish market and the lake birds such as Marabou stork, Hammer kop, kingfisher and more. Lunch at www.haileresort.com the resort owned by Ethiopian famous long distance runner Haile Gebre Silassie. Keep driving to Addis Ababa and departure back to home.