Historic Route by flight, Simien Park and Southern Omo Combo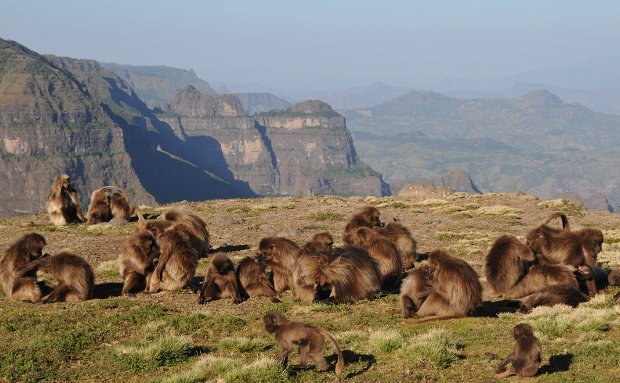 This is our best-selling and most popular tour. Experience a vast variety of Ethiopia's must-see destinations in this two week trip of a lifetime.
Itinerary
Arrival Flight to Bahir Dar in the morning. 
Take a boat trip on Lake Tana to visit a selection of the monasteries hidden on the islands and shores of this sacred lake.  Visit the Zege Penninsula and the monasteries of Azuwa Maryam and Ura Kidane Mehret and the island monastery of Debre Maryam near the outlet of the Blue Nile River.  In the afternoon, drive out to the Blue Nile Falls for a short hike in the area.  Finish the day with the sunset over the lake.  Overnight in Bahir Dar  Hotel
Drive to Debark, after short break at park head quarters drive to Simein lodge after check in, trek up to Sankaber(3250m) to visit the breeze taking landscape of Semien Mountain with its habitats. There will be picnic lunch on the way. Simien Mountain is one of UNESCO WORLD HERITAGE SIGHTS with an altitude of 4620masl at the pick and the 4th highest mountain in Africa. The park hosts three endemic mammals which are Walya Ibex, Gelada baboon and Ethiopian wolf. And endemic birds and plants and butterflies. Drive back to Simien Lodge for overnight.
Full day Simien Mountains trekking( Gich to Chennek 5-7hours). Drive up to Gich (3600m) turn and from there start trekking along the western esacarpment via Imet Gog(3925m), this is the most spectacular stage, offering amazing views to the valleys below.Other major peaks you pass on the way are Shayno Sefer(3962m) and Inatye(4070m). Chennek(3620m) is a good area to look for Gelada baboon,Walia Ibex and lammergeier. Drive back to Simien Lodge for overnight.
Drive back to Gondar, after briefly settling in your hotel, explore the sites of Gondar, including a visit to the Royal Enclosure, with six castles and several other buildings. Visit Fasilidas's Pool, still used for Timket celebrations , Ras Gimb Palace Museum and the Debre Birhan Selassie church, with the most famous ceiling paintings in Ethiopia.  Overnight in Gondar AG hotel 
In the morning, start your tour of the rock-hewn churches of Lalibela, visiting the Northwestern Cluster of churches - Bet Medhane Alem, Bet Maryam, Bet Meskel, Bet Danaghel, Bet Mikael & Bet Golgotha .  After lunch, continue with the Southeastern Cluster of churches – Bet Gabriel-Rufael, Bet Merkorios, Bet Amanual, and Bet Abba Libanos.  Finally, you will visit the most famous of all the churches – Bet Giyorgis, constructed in honor of the patron saint of Ethiopia – Saint George.  Overnight in Lal Hotel
Lalibela sightseeing, Asheten maryan with mules, overnight Lal Hotel
Flight to Addis. In the afternoon head for Addis Ababa sightseeing that includes National Museum, Trinity Cathedral and Entoto top view. Overnight Caravan Hotel
In the morning drive to Arba Minch via Hosannas' asphalt road and on the way visit Dorze village before arriving to Arba Minch. O/n Ezana hotel
Morning boat trip on Lake CHAMO to visit crocodiles, hippopotamus and different aquatic birds. Then drive to Turmi on the way visit Tsemai people village. Overnight Buska lodge.
After breakfast drive to Omorate and cross Omo river by traditional boat and visit Dasenetch tribe. After visit drive back to Turmi and in the afternoon visit Turmi market and Hammer village to visit Hammer living style with different customs. Overnight Buska Lodge
After breakfast drive to Jinka on the way visit Karo people and Demeka Market. Overnight Jinka Resort Hotel.
Drive to Mursi via Mago Park. Visit the Mursi tribe whose ladies wear lip plate on their lower lip and drive back to JINKA. In the afternoon visit Jinka national museum. O/n Jinka Resort Hotel.
Drive to Arba Minch. On the way visit Key Afer market and konso people. O /n Ezana hotel.
Drive to Addis Ababa.Traditional dance and dinner party.
 Airport transfer and departure back to home